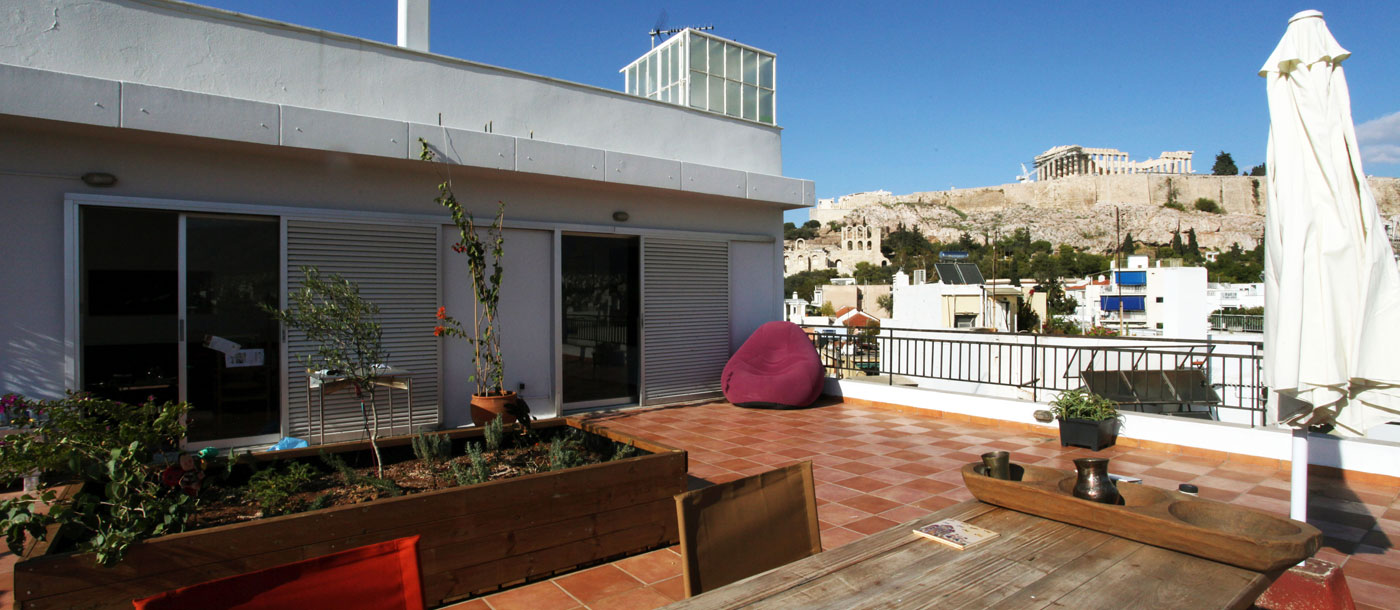 ---
Acropolis Place
Acropolis Place are two lovely apartments that have the greatest view of the Acropolis! Acropolis Place Dionysus is a two bedroom apartment, with a spacious living room and a very large private terrace, where you can relax and enjoy the Greek sun or the wonderful cool nights!
Monastiraki Place
Monastiraki Place is located at the heart of Athens in the Hip area of Monastiraki. Walking distance to Ermou str. Monastiraki and Psirri Squares, Thisio, Plaka and of course the Acropolis these apartments are ideally located in the city and provide you with a wonderful experience of Athens.
Psirri Place
Psirri Place is located in the center of Athens, very close to the Monastiraki and Psirri squares. Ermou str, that one can enjoy shopping, is walking distance from the apartment, as well as Thisio and Plaka. You can also walk to the Acropolis or take the Hop on Hop off bus from nearby.
Gazi Place
Gazi Place is a comfortable apartment, located downtown. It has been renovated recently and now has a modern bathroom and two cozy bedrooms. Also included a living room with a comfortable couch as well as a kitchen where you can prepare your meals.
Voulis Place
Voulis place is located on 35 Voulis street and is a comfortable and spacious apartment that can accommodate up to 6 people. It is walking distance from the metro, Syntagma square and Ermou street.
Acropolis Cozy Place
Extremely well located this cute apartment will be the ideal place to stay for your visit in Athens. Right across the Acropolis metro station and the Acropolis Museum, you will be well based to travel around Athens with ease and check all the sightseeing as most places are walking distance from the apartment.
Liberty Park Place
Liberty Park Place is a unique apartment that has a welcoming and cozy set up, with one of a kind furniture and feel. It is the ideal place to stay if you want to be in the center of Athens yet have a spacious apartment that is pleasant to spend time in and still have fast access to the metro, the US embassy and multiple clinics and hospitals around.
Ambelokipi Place
This renovated one bedroom apartment is 40sq m and includes everything you will need for a comfortable stay in Athens, a beautifully decorated living room, a fully equipped kitchen, a clean and modern bathroom and a comfy bedroom.
Vouliagmeni Place
These lovely one bedroom apartments are ground floor and are located at a plot of land amongst other apartments. There is privacy since both apartments have their own little garden in front to sit and a private entrance. Both apartments have recently been renovated and are tastefully furnished.
---
What our customers say:
Very authentic Greek apartment which was great! Very easy access to the metro and easy to get into the city.
The location was excellent, the host very friendly and helpful. The apartment was nice and cozy. Plenty of restaurants, cafes and shops nearby.
Location was awesome! In the heart of everything in Athens!
The apartment was well furnished, beds were comfortable and the air conditioning was a pleasure in the 35+ degree heat! The guys managing the apartment were extremely helpful.
Perfect location, close to the Akrapolis and many bars and restaurants. For this price, you probably wont find a better deal.
Nice room close to the city centre. You have everything you need. It's really less than a couple of minutes from Monastiraki. Overall, a good value for money.
The best view in all of Athens! Kitchen is big. Washing machine came in SO handy. Beds were very comfortable. The living room is amazing.
Great views, responsive hosts. The location and views are absolutely fantastic! Especially at night when the Acropolis is lighted. Many restaurant choices within a short walk.
---